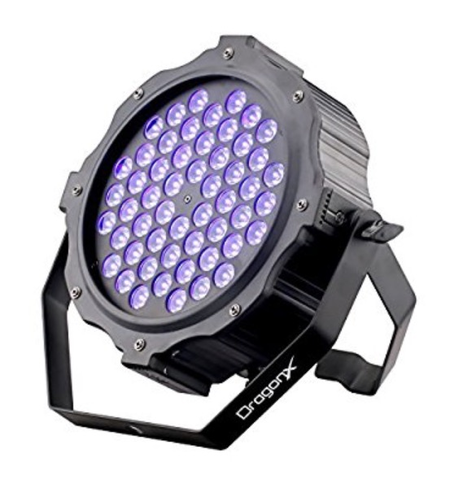 Blacklight Rental Each 54x3w Dimmable
These lights are bright. We suggest at least 2 for smaller venues. Use 4-6 for a venue like a
gymnasium. Mount above 6 feet high for best results.

Blacklights are perfect for:
Highlighter parties
Glow parties
White parties
Halloween effect lights
Homecoming dance
Prom
House parties
Glow Volleyball
Glow Dodgeball
Glow T-Ball
Glow Golf
Church Retreats
Winter Dances
Fundraisers
Charity Events
Corporate Events
2-channel DMX 512 LED black light. Sleek and slim casing for the ultimate durability.

180W (54*3W) power consumption with new LED technology. Super bright UV flood light for DJ lighting, stage special effect filming, home parties, halloween party, Christmas backlit, glow blacklights.

Static/dimmer/strobe. Adjustable flash rate(1-13t/s), 0-100% linear dimmer and static in stand-alone.

Built-in sound activated programs via master/slave or DMX. Coverage up to 30ft x 30ft

30 degrees beam angle. Unit dimension: 26*26*12cm.