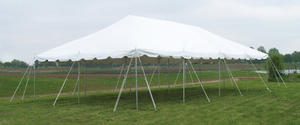 Canopy 20x40 SETUP GRASS ONLY. DELIVERY EXTRA Stand up room for 160, Chairs for approx 66-133
POLE TENT Canopy setup and tear down on grass is included in the price. If your not setting up on grass you will need to order water barrels extra and supply us with the water. Allow additional 8 foot bigger space to set up your canopy. Travel fee is additional.
Please Note: Pole tents are best suited for setup on grass or soft surfaces. Pole tents may be utilized on blacktop or asphalt, but it will require the use of heavy duty stakes and a stake driver for drilling into the ground. Usage on concrete surfaces is not recommended.
Seating Capacity:
12 tables, 72 chairs for a sit-down dinner
133 people for cathedral (row) seating
160 people for a cocktail party (standing)
This 20 foot by 40 foot canopy is 800 square foot. This unit requires stakes to secure. 55 gallon Water barrels-12 ADD $70.00 Customer supplies Water.