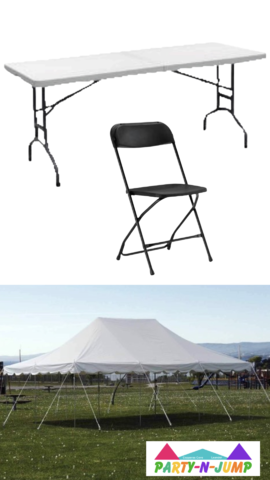 Tent Package For Up To 60
Theme: Tent, table and chair package for up to 60 people
Size: 20'X20' Tent
Package Content: 1-20'X20' Tent, 9 - 6ft tables and 60 black adult chairs. (White chairs can be put in place for an additional charge)
Setup Area: 22' L X 22' W X 12' H
Power: N/A
Capacity: 60
Ages: Great for any event or age group
Set Up Surface: We can set up on all surfaces, please select your surface type when booking! **If this item will be set up on concrete/ blacktop please add the water barrel selection or give us a call to assist getting your reservation completed.

Delivery: Party-N-Jump offers delivery to Austin/ Copperas cove and surrounding areas based on the delivery zip code. If you have issues finding your zip code or city please call us!
Customer Pick Up (Copperas Cove Location ONLY): Party-N-Jump does not offer customer pick up on this item.
Deposit/Rain Check/ Cancelation: Party-N-Jump requires only 50% down to reserve your items! If you have an issue come up not allowing your party to stay on schedule, your credit will stay on your account for 1 year. This credit can be used for any rental within this 1 year time frame!
Cleaning: Party-N-Jump staff cleans every rental item after each event. If an item is not to your satisfaction please bring this to the attention of your delivery driver... We will clean it on-site!
Pricing: This pricing is a full day rate. ** This is not a 24 Hr rental, this is a morning to morning rental. Ex. If your event is at 11AM, we will be there by 10 Am to start set up. However the following morning we may be there as early as 8Am to pick up and prep for the next event!
Driver Tips: Our drivers always appreciate a tip but it is never required! 100% of tips go directly to the Party-N-Jump staff ensuring your event is one you will never forget!